THE RADIAL ACCESS ALTERNATIVE.
The CSl® orbital atherectomy device is the only extended length atherectomy device available to treat lower extremity peripheral artery disease through radial access.
New data from the REACH PVI study show utilizing orbital atherectomy in radial PVIs has a high rate of procedural and treatment success while maintaining a low rate of
angiographic complications and low rate of residual stenosis.1
HIGH RATE OF SUCCESS
98%
Procedural Success*
LOW COMPLICATION RATES
2%
Serious Angiographic Complications**
EFFECTIVE IN REDUCING RESIDUAL STENOSIS ACROSS ALL LESIONS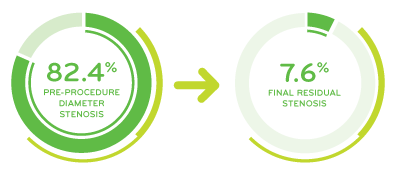 Built on CSI's proven orbital atherectomy platform, the extended length device is designed to maintain pushability and control while treating PAD patients.
5 Fr profile on all extended length devices
180 cm and 200 cm working catheter lengths
0.017″ tapered crossing profile
*Final residual stenosis <50% without stent placement or <30% residual stenosis with stent placement and without significant angiographic complications.
**Successful completion of OA treatment of target lesion via transradial access without serious transradial access related events.
1. Lodha A. REACH PVI Clinical Study Results Presentation. NCVH 2020.
The Diamondback 360® and Stealth 360® Peripheral Orbital Atherectomy Systems are percutaneous orbital atherectomy systems indicated for use as therapy in patients with occlusive atherosclerotic disease in peripheral arteries and stenotic material from artificial arteriovenous dialysis fistulae. Important Safety Information: The Systems are contraindicated for use in coronary arteries, bypass grafts, stents, or where thrombus or dissections are present. Although the incidence of adverse events is rare, potential events that can occur with atherectomy include: pain, hypotension, CVA/TIA, death, dissection, perforation, distal embolization, thrombus formation, hematuria, abrupt or acute vessel closure, or arterial spasm.
Caution: Federal law (USA) restricts this device to sale by or on the order of a physician.
1225 Old Hwy 8 NW
St. Paul, MN 55112
T: 651-259-1600
877-274-0901
F: 612-677-3355
www.csi360.com
CSI, Diamondback 360 and Stealth 360 are registered trademarks of Cardiovascular Systems, Inc.
© 2020 Cardiovascular Systems, Inc. EN-6390.A 0920